4th of July Clipart

Christmas Clipart
Thanksgiving Clipart
Halloween Clipart
New Year Clipart
Mother's Day
Memorial Day
Father's Day
4th of July
Labor Day
Columbus Day
Valentine Clipart
Easter Clipart

Animated Bullets
Animated Email
Animated Lines
Animated Animals
Animated Flowers
Tree Clipart
Animated Buttons
Alien Clipart
Web Animations

Rollover Generator
Rollover Clipart

American Flags
Bicycle Clipart
Butterfly Graphics
Car Graphics
People Clipart
Vampire Clipart
Thank You Gifs
Welcome Graphics
Computer Gifs

Line Clipart
Bullet Clipart
Button Clipart
Assorted Gifs
Arrow Clipart

Free Counters
Popup Generator
Free Web Hosting
Free Guestbooks
Meta Tags


Helpful Sites
Free Clipart
World Flags
4th of July Clipart
4th of July Gifs
4th of July Graphics
Veterans Day
Patriot Day
Christmas Gifs
Christmas Clipart
Mother's Day Clipart

Free 4th Of July Clip Art
If you need help saving the Independence Day gifs? - Help
Celebrate Independence Day with our free 4th of July clipart made for web pages.
4th of July Clipart

These pages celebrate Independence Day July 4, 1776. All animated images are in Gif format. Clip Art images may be Gif or JPEG files.

You may use our animated clip art to enhance your site. Simply save the graphics of choice and upload to your server or personal storage server.

If you don't have your own storage space for web graphics, you may use the copy and paste codes located under many images.
4th of July Clipart Pages - 4th of July 1 | 4th of July 2 | 4th of July 3 | 4th of July 4


Happy 4th of July with George Washington and American Flags.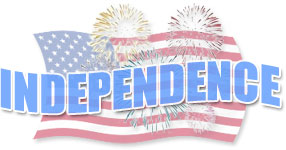 Celebrate our Independence that so many Americans fought and died to obtain.
Liberty is not free. Enjoy the celebrations.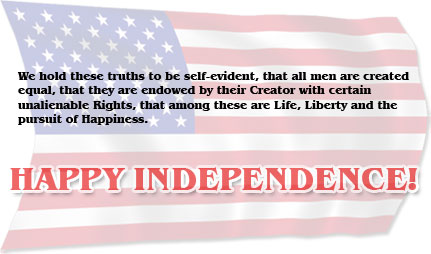 Happy Independence!

Happy Independence Day with American Flags.


Happy Independence on black with American flags.


Happy 4th Of July Red and White on Blue.


Happy 4th Of July Animated on American Flag.


Happy 4th with flag and frame

American flag, fireworks, chrome frame

Golden Fireworks on the 4th.

Patriot celebrates the 4th of July.

Happy 4th of July with fireworks.

Firecrackers lit and ready to go.

Rocket blasting off.
4th of July Clipart Page 1 | 2 | 3 | 4

If you save our free 4th of July clipart please give us credit for our work or simply copy and paste the snippet of code below into your credits page. Thank You.


<p><a href="http://www.wilsoninfo.com">Wilson Free Clipart</a></p>