Halloween Clipart

Christmas Clipart
Thanksgiving
Halloween Clipart
New Year Clipart
Mother's Day
Fathers Day
Memorial Day
4th Of July Clipart
Valentine Clipart
Labor Day
Columbus Day
Easter Clipart

Animated Bullets
Email Clipart
Animated Lines
Animated Animals
Animated Flowers
Animated Buttons
Alien Clipart
Tree Clipart
Web Animations

Rollover Generator
Rollover Clipart

American Flags
People Clipart
Vampire Clipart
Bicycle Clipart
Butterfly Graphics
Car Graphics
Thank You Gifs
Welcome Graphics
Computer Gifs

Line Clipart
Bullet Clipart
Button Clipart
Assorted Gifs
Arrow Clipart

Free Counters
Popup Generator
Free Web Hosting
Free Guestbooks
Meta Tags



Helpful Sites
Halloween Clip Art
Halloween Gifs
Christmas Clip Art
Halloween Graphics
Free Halloween Clipart - Gifs
Halloween Clipart

If you lack the web space to save the Halloween graphics, we have provided a copy and paste code below many images you may use if you find it helpful.

This page has several halloween scenes which include the grim reaper, witches, skeletons, skulls, bats, jack-o'-lanterns and a haunted house on a very scary night.

All animations are gif images.
Go To Free Halloween Clipart Page 2
To print Halloween clipart, click on image(s) for printable view.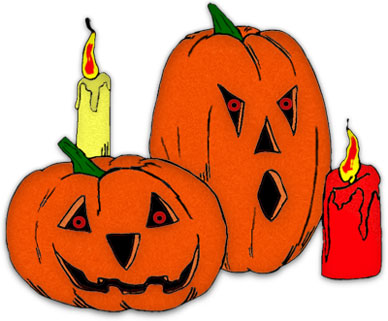 Spooky Jack-O-Lanterns.

Code for websites or Myspace, Tumblr, etc.

Bubbling black cauldron with fire.



Animated pumpkin with ghosts.



Winged Devil or mischievous child?


Happy Halloween ghost. Click image for print view.

The devil with bats and lots of smoke. You must have fire and smoke if you are a devil. He could be a vampire with horns. Do vampires have horns?


Bride of Frankenstein looks angry.

Unusual Skeleton with 2 heads.

A Happy Halloween vampire with bats and deep blue eyes. A vampire with attitude.


Witch preparing to cast a spell.

Spooky Jack-O-Lantern

Witch flying on her broom stick.


Scary Jack-O-Lantern animated.


Animated witch with her bubbling cauldron.


Halloween Scene, Grim Reaper, Haunted Mansion, Bats, Jack-o'-lanterns, Witch


Zombie Animated.


A less scary witch.


Scary pumpkin animated transparent background.


Witch on broom animated.


Six animated jack-o'-lanterns.


Happy Halloween with lots of bats.


Funny looking jack-o'-lantern transparent.


Skeleton chasing girl with Happy Halloween is best on white or light pages.


Witch flying on her broom. Transparent background with white matte.

Witch with broom and green skin.

Bats Flying at Twilight

| | |
| --- | --- |
| Free Halloween Clipart Page - 1 | 2 | 3 | 4 | 5 | 6 | 7 | 8 | |
Included on the following pages halloween clipart, animations, graphics, scenes, grim reaper, pumpkins, devils, vampires, skeletons, witches, haunted houses, bats, frankenstein, ghosts.